The Bolognese art critic tells how difficult it was to get Hermann Nitsch's Orgien und Misterien Theater, who died a few days ago, to Bologna. But it went better than expected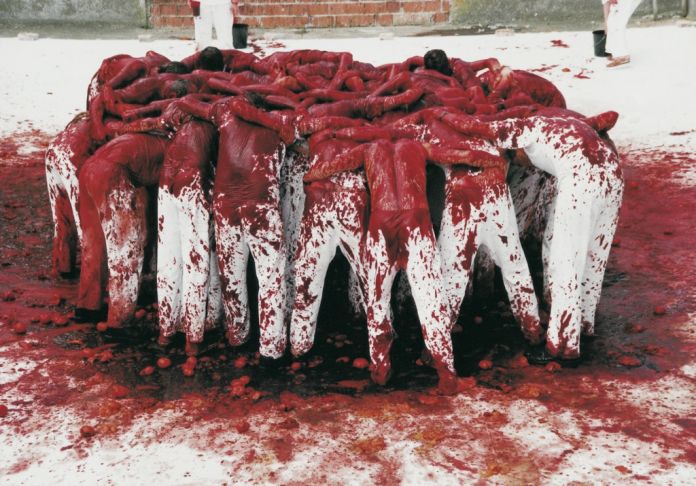 The great performance of Hermann Nitsch (Vienna, 1938 – Mistelbach, 2022) in Bologna, in the huge Baroque church then deconsecrated and almost reduced to a ruin of Santa Lucia, was an absolutely dominant event in the International week of the performance which I had started in the summer of 1977 with my close colleagues Francesca Alinovi and Roberto Daolio, placing the events mainly in the headquarters of the Modern Art Gallery, then located near the exhibition center, and in adjacent spaces, but given the expected size van Nitsch's venture, we had to think of a much broader location, after all, what location could ever seem more appropriate than a former church?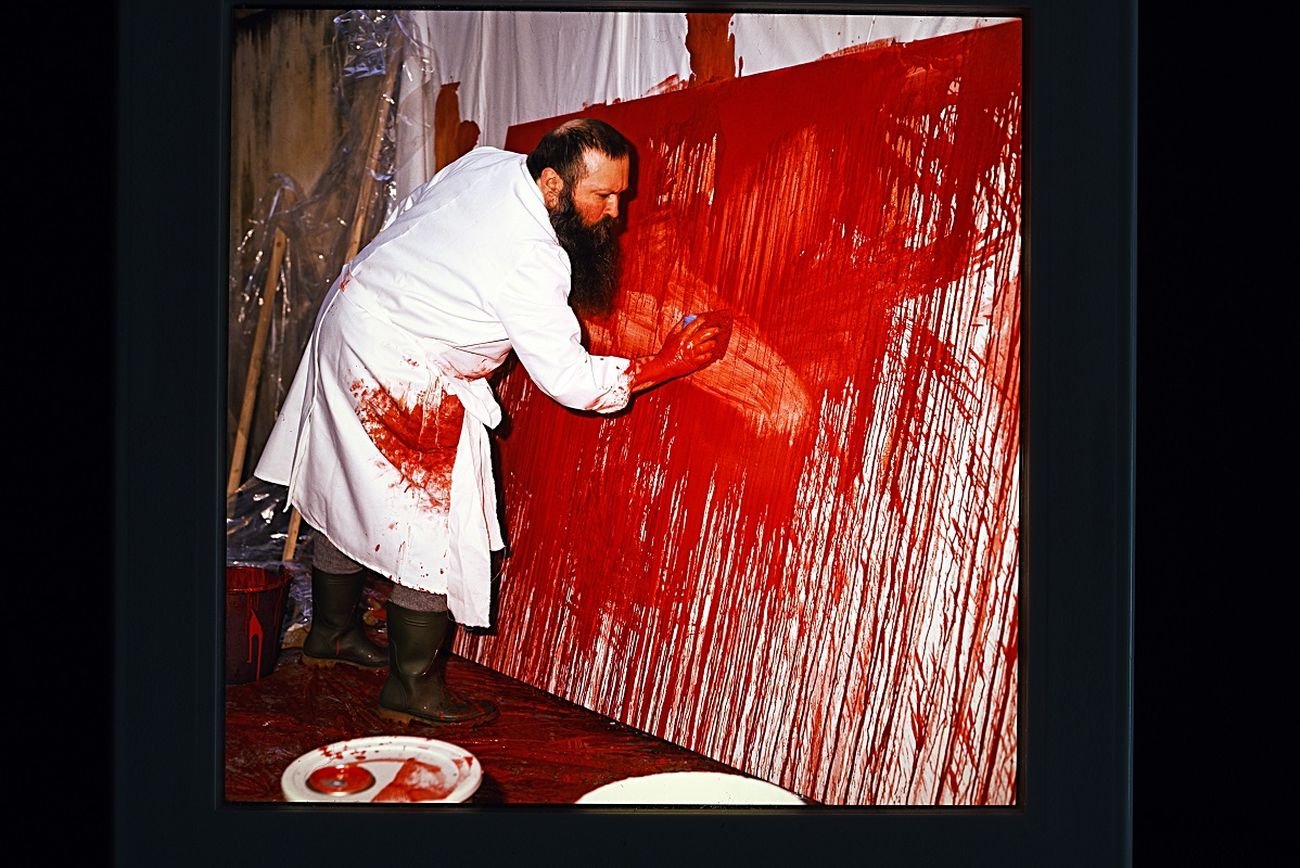 MARINA MARINA ABRAMOVI, ULAY AND NITSCH IN BOLOGNA
Instead, Marina Abramović and Ulay placed themselves as conciliatory statues on the entrance door of the GAM, which gave life to the performance that was perhaps the most famous and sensational, as it was interrupted by a zealous police officer, who marked that undertaking of martyrdom, of extreme profanation, in the eyes of an audience that is certainly not conformist like one who might visit a contemporary art space. Instead, Nitsch's performance came to us, foretold by scandal, almost sacrilegious desecration, so much so that in order not to get into trouble with the city councilor for culture Luigi Colombari, my good friend, I pretended to express the opinion of the ' city ​​attorney. A reply from him which was subsequently destroyed by the facts, as he told us that showing the naked bodies of Marina and Ulay, at a time when the nudes entered the cinema and theater peacefully, could no longer be regarded as a cause for scandal. are considered. But instead the orgy, the black mass of Nitsch, which was an insult to the Catholic Church that was still considered the official religion of our state, before a providential intervention by Craxi who took away that privilege. We trembled at that sentence and took remedies by turning that event into a sort of private party, managing to give each of the thousand participants a private club membership card. The result was the opposite of that lawyer's predictions, the nude of Marina and Ulay was immediately blocked, the two almost arrested, and on my complaints about the legality now achieved by the female nude that police officer gave me in his own way. answer wisely gave, that the nude was allowed in the places given to acting and moving, but in a museum it could only enter still, painted or photographed. Which in its own way was a correct distinction between a representative art, of immovable things or people, compared to another art given to action. And the performance clearly found its first reason to be in this latter aspect.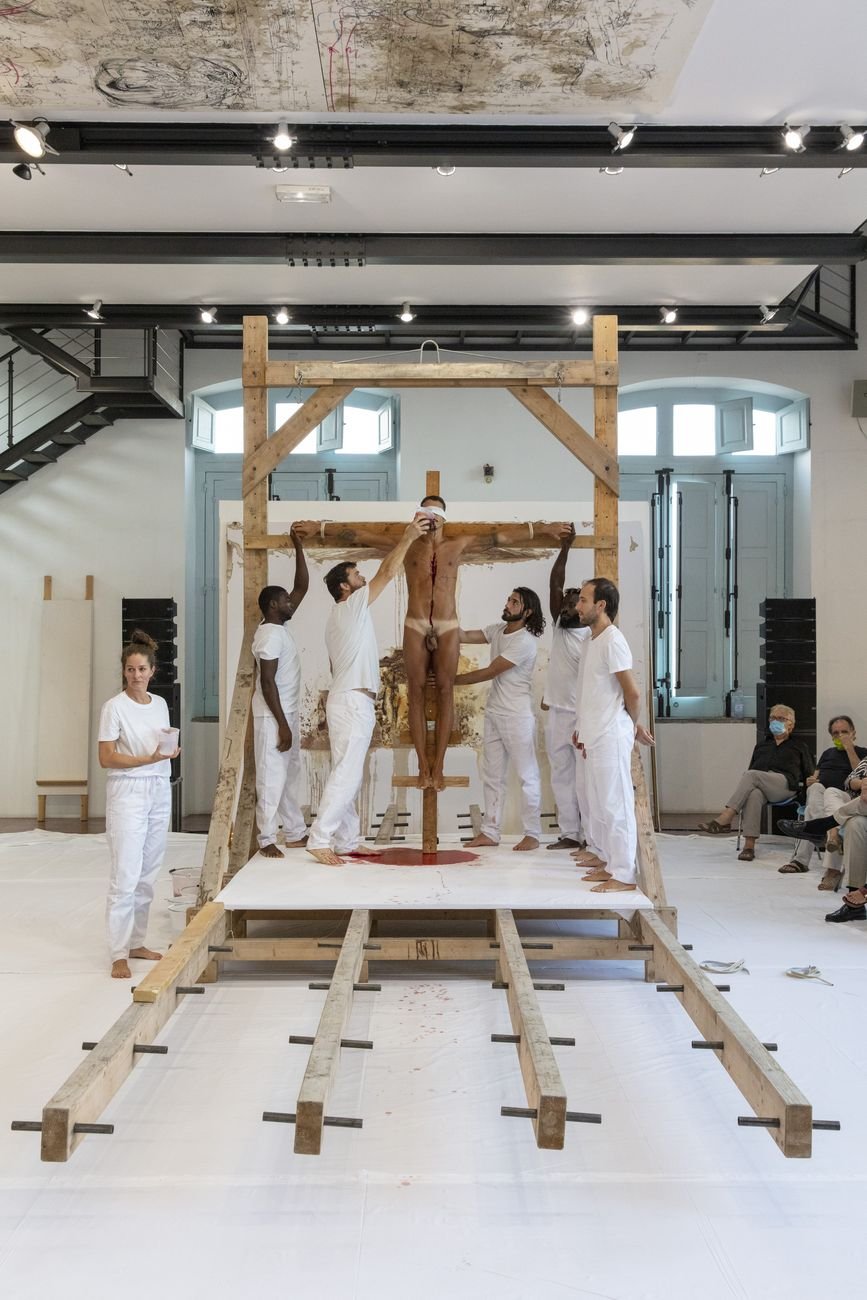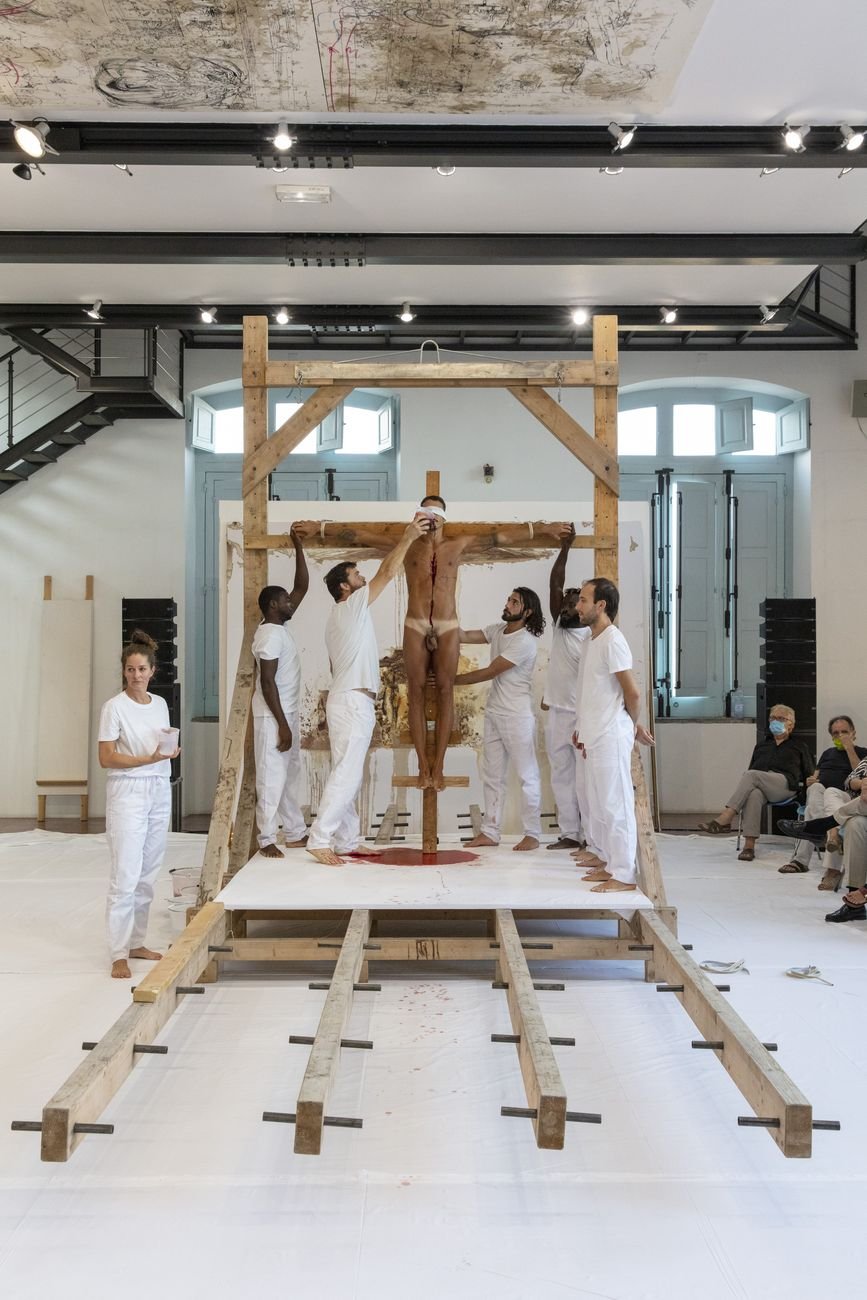 THE ACTION OF NITSCH LIKE CATHARIS
Returning to Nitsch, and his Orgien and Mystery Theater, of which his performance was one of the best examples, I hastened to point out the cathartic character that lay in that simulation. Pretending to crucify a person, sprinkling them with steaming entrails, was precisely an act of "acting out", or purging our bad moods, the same task that comes with reading detective stories and westerns. To step up that penance, Nitsch had claimed to have fifty liters of beef blood, supplied by the municipal butcher's shop, and so everything was in order for this aspect as well. Then some young students of the Academy of Fine Arts lent themselves to be crucified, fastened, of course, to the wood of the cross, certainly not by nails, but only by laces. A brilliant idea from Nitsch was to provide his "mystery" with an appropriate sound accompaniment, performed by a village orchestra complete with trumpets and drums, and by many young people equipped with whistles from which they blew a deafening, piercing hiss. The show went on throughout the evening without any hiccups, and on that occasion I met Franco Quadri, the Pope of the most advanced forms of theatre, with whom I formed a friendship that lasted until his death.
I must say that, satisfied with that full affirmation of all the best characters of Nitschian art, I have not attended it again, except to recall him on stage when I recently began to commemorate the best artists of that season on the Friday that is part of the days of Artefiera. But the meeting with Nitsch did not go well, he did not speak Italian, he spoke his German softly, with an almost intelligible murmur, I had found a willing Germanist colleague who, however, could not make up the words Nitschane, who expressed the disapproval of met the public, and especially of the one who had made it its champion, the Neapolitan Morra, who almost in his name founded a foundation and who exaggerated a little by his influence on the whole art of our time, which, however, undoubtedly existed, as one of the best art of action, of conduct, on par with the Living Theater, the events, the poor Theater, with the addition of that immanent tone of profanity, however, it is still worth to insist, introduced for purposes of redemption and catharsis.
† Renato Barilli